Describing a force double play in which a ground ball is fielded by the third baseman who throws to the second baseman who then throws on to the first baseman.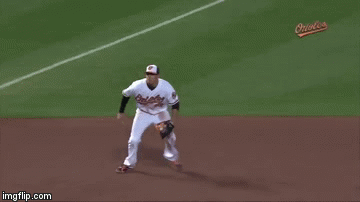 e.g., "The Seals pull a twin killing around the horn" (San Francisco Seals telecast, July 19, 1956; Peter Tamony). Many modern writers, however, drop the "a" in the word "around"; e.g., "[Ray] Knight started two 'round-the-horn double plays both of which required hard-nosed, low-bridge pivots by [Rick] Burleson with spikes aimed at his knees" (Thomas Boswell, The Washington Post, Apr. 7, 1987). Syn. 'round the horn. usage note. This would appear to be the older and more traditional of two current meanings of the term (see below). 2. adv. Pertaining to throwing the ball around the infield for practice and/or show, especially after a strikeout; said of the pattern in which the ball is thrown from catcher to third baseman to shortstop to second baseman to first baseman, after the first or second out has been made and nobody is on base. The custom of throwing the ball around the infield is an old one, perhaps dating to 1877 when the Chicago White Stockings were on tour. 1st use. 1884. "[Providence catcher Barney Gilligan] blocks the view of umpires [of third strikes] and throws it around the horn" (The Sporting Life, Sept. 3, p.7; Frank Vaccaro). 3. n./hist. A "side-arm curve to batter when count is 3 and 2" (The Sporting News Record Book, 1937). "A pitcher's wide-breaking curve" (Edwin M. Rumill, Christian Science Monitor, Sept. 1, 1937).
etymology. The term is an old nautical one referring to the long voyage between the Atlantic Ocean and the Pacific Ocean, which, before the opening of the Panama Canal, required a vessel to go around the tip of South America at Cape Horn. It is suggested that the ball is going the long way around to get back to the pitcher instead of being tossed to the pitcher immediately after the out. Robert Hendrickson (Salty Words, 1984) noted, "Cape Horn, incidentally, isn't so named because it is shaped like a horn. Captain Schouten, the Dutch navigator who rounded it in 1616, named it after Hoorn, his birthplace in northern Holland."
extended use. Said of a passing pattern in basketball. "If you're not good defenders individually, then you won't be a good defender in a zone, and we were trying to pass it around the horn and get good shots" (Washington Wizards forward Jerry Stackhouse, quoted in The Baltimore Sun, Dec. 29, 2002).