A relief pitcher who tries to get the final out or outs in a game. A closer is often the team's most reliable pitcher; he almost never pitches without a lead or for more than one inning.  Closers generally are veteran pitchers: " No one is a closer until they've got 40 or 50 saves behind them" (Baltimore Orioles manager and former pitching coach Ray Miller, quoted in the Baltimore Sun, Feb 15, 1998)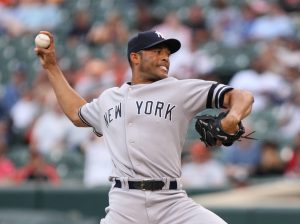 The closer concept was invented by Chicago Cubs manager Herman Franks in 1977 when he used Bruce Sutter only when the Cubs had an eigth- or ninth-inning lead.  Michael Bamberger (quoted in Sports Illustrated, March 24, 1997) commented, "The closer has been identified with certain traits. He has an oversized body. Or an outsized personality. Or, at the very least, the sinister face of ana 19th century outlaw"  Tom Verducci (sports Illustrated, June 18, 2001)"Facial hair .. is to closers what masks were to greek thespians."  Ironically, Mariano Rivera didn't fit into any these steteotypes.
Syn. closing reliever, stopper, game-ender, finisher
Other definitions:
A starting pitcher who often pitches complete games.
A scout who was noted for his ability to get a prospect to sign a contract.