Runners on the bases (as if they are bobbing about) waiting for a hit to send them home.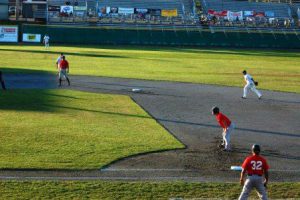 1ST USE. 1939. "[Joe DiMaggio's] runs batted in record would indicate he doesn't hit when there's 'ducks on the pond'" (San Fransicso News, Aug.5, 1939, p.13; Peter Tamony).
ETYMOLOGY. Coined, or at least brought to baseball, by Washington Senators broadcaster Arch McDonald.